Truck Accidents Lawyer
Every year, thousands of people are killed or sustain serious injuries in accidents involving commercial trucks. Tragically, many of these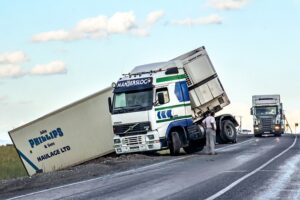 accidents are the result of negligent truck drivers and their employers. These accidents can result from poor driving, including the failure to yield the right of way to pedestrians, vehicles, bicyclists, as well as other violations of the relevant vehicle and traffic laws. Some accidents also involve the failure to properly maintain and/or equip the involved truck.
Truck crashes and 18-wheelers present unique issues not associated with a typical motor vehicle accident cases. New York Trucking companies have their own lawyers and representatives that they immediately send to the scene of a serious New York truck accident. These representatives work for the trucking company to confront the victims of the accident and do everything they can to limit or mitigate their own liability. You need an experienced truck accident law firm to encounter these trucking company representatives and to ensure that your rights are properly protected.
Mlawfirm is experienced and knowledgeable of personal injury law and the regulations that apply to large trucks and 18-wheelers. When large trucks enter the congested New York City streets, the potential for disaster is a lot.
What to do if your involved in a Truck Accident?
Immediately Call 911 for help and report the accident.
File an accident report with the police, sheriff, highway patrol, or a local agency. DO NOT leave the scene of an accident without making a report because that may jeopardize your case.
Write down the name, address, insurance information, vehicle license number, and driver's license number of any and all persons involved in the accident. Record names, addresses, and telephone numbers of all witnesses.
Obtain photographs of the accident scene, all vehicles involved (before repairing), and any visible injuries to the parties involved, such as cuts, bruises, and scars.
Do not discuss the accident or your injuries with anyone, with the exception of your doctor and your attorney.
Do not consent to a recorded statement or sign any document without first reviewing it with your attorney. Innocent statements made by you attempting to assist an insurance adjuster can easily be misinterpreted and used to deny or minimize your recovery.
Immediately seek medical attention and tell your doctor the nature and extent of your pain and injury, and how the injury occurred. Something that looks like a minor injury at that moment can be life-threatening if not taken care of properly.
In cases against trucks operated by the

New York City Transit Authority (NYCTA)

, the NYCTA must be notified of the claim within 90 days of the accident. Also, the NYCTA vigorously investigates and defends against claims and is often reluctant to settle claims out of court.
In claims against private coach buses, commuter buses and tour buses plaintiffs must ascertain the bus's real owner; this can be difficult because buses are often owned by national and even international corporations with complex ownership structures
To file a no-fault application you have 30 days from the date of the accident if you fail to file within that time period, you may not be able to obtain no-fault benefits.
There is a due process of law to be followed, starting with filing a lawsuit. The lawsuit intends to cover the cost of damages caused to the victim. If you have questions that Who will pay your:
Medical Bills?
Property Damage?
Lost Wages?
Pain and Suffering?
Call us to get answers to all your questions FREE of charge at (212)-400-4000.
Call us at: 212-400-4000 For Free Consultation with a New York City Personal Injury Lawyer and to Protect your Rights!