We are
Motorcycle Accident Lawyers
We will make sure to get back to you as soon as possible within 48hrs.
Motorcycle Accident Lawyers
Motorcycles, unlike automobiles, lack the weight and safety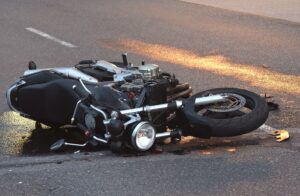 features that prevent injury to individuals who are involved. Air bags and/or seat belts are not available to offer any type of protection in the unfortunate event of an accident. This fact results in about 80 % of motorcycle accidents that end in either death or serious injury. Recently studies have shown that about 70% of accidents that involved a motorcycle were the result of automobile drivers not being able to see the motorcyclist until it was too late. Other factors may also add to causes of a motorcycle accident:
Driving at unsafe speeds
Poor and/or limited visibility
Influence of alcohol and/or drugs
Poor Road Conditions
Skill of the rider
Weather Condition
Motorcycle injury cases are usually complex. Accident victims require the counsel of litigators who are experienced in dealing with the bias that bikers often face from law enforcement officers investigating the accident, insurance adjusters, and juries.
What to do after a Motorcycle Accident?
Immediately Call 911 for help and report the accident.
File an accident report with the police, sheriff, highway patrol or a local agency. DO NOT leave the scene of accident without making a report because that may jeopardize your case.
Write down the name, address, insurance information, vehicle license number and driver's license number of any and all persons involved in the accident. Record names, addresses and telephone numbers of all witnesses.
Obtain photographs of the accident scene, all vehicles involved (before repairing) and any visible injuries to the parties involved, such as cuts, bruises, and scars.
Do not discuss the accident or your injuries with anyone, with the exception of your doctor and your attorney.
Do not consent to a recorded statement or sign any document without first reviewing it with your attorney. Innocent statements made by you attempting to assist an insurance adjuster can easily be misinterpreted and used to deny or minimize your recovery.
Immediately seek medical attention and tell your doctor the nature and extent of your pain and injury, and how the injury occurred. Something that looks like a minor injury at that moment can be life threatening if not taken care of properly.
To file a no fault application you have 30 days from the date of accident if you fail to file within that time period, you may not be able to obtain no fault benefits.
There is a due process of law to be followed, starting with filing a lawsuit. The lawsuit intends to cover the cost of damages caused to the victim. If you have questions that Who will pay your:
Medical Bills?
Property Damage?
Lost Wages?
Pain and Suffering?
Would you prefer to call us today for your FREE CONSULTATION?
Call Us Today
212-400-4000
Motorcycle accidents can be severe

.
Motorcycle accidents can be severe, and if you have been in one, you may want to consider talking to a motorcycle accident lawyer. Motorcycles are much smaller than other vehicles on the road, and as a result, they can be easily overlooked by other drivers. Furthermore, motorcycles offer little protection for riders in an accident. This combination of factors makes motorcycle accidents more likely to result in serious injuries or even death. If you have been the victim of a motorcycle accident, a motorcycle accident lawyer can help you recover damages from the responsible party. Motorcycle accident lawyers have experience dealing with insurance companies and can fight for the compensation they deserve.
If you are in a motorcycle accident, it is important to contact a lawyer right away

.
Motorcycle accidents can be severe, and if you've been involved in one, you need an experienced attorney on your side. The lawyers at Munawar and Hashmat LLP have extensive experience dealing with motorcycle accidents, and they will fight to get you the compensation you deserve. Insurance companies often try to lowball accident victims, but with the help of a motorcycle accident lawyer, you can get the total amount of compensation you're entitled to. If you've been involved in a motorcycle accident, contact Munawar and Hashmat LLP today.
What are the causes of accidents?
Motorcycles account for more than 28% of motor vehicle accidents. The most common cause of motorcycle accidents is a car turning into the rider's path. This is caused by drivers failing to check their blind spots or making a turn without signaling first.
Motorcycle drivers should take extra care when on the road to prevent these accidents. Motorcycle drivers should ride defensively and always assume that drivers won't see them, so they should be prepared to react quickly if necessary.
Most of the time, it's easy to tell what caused an accident; you can look at the bike and see it was skidding on a slippery surface, or you can see that someone collided with a car. Sometimes accidents are hard to explain because they didn't happen in front of anyone or so long ago. If you've been in an accident and suspect that another party was at fault, don't hesitate to contact our team for a free consultation to discuss your legal options.
Motorcycle accidents can be devastating. If you or a loved one has been involved in a motorcycle accident, it is vital to investigate the accident and determine the cause. Motorcycle accidents can often be caused by negligence on the part of another driver. For example, if a car driver cuts off a motorcycle rider, the rider may be seriously injured or killed. Suppose you have been involved in a motorcycle accident. In that case, you should work with an experienced motorcycle accident attorney who can investigate the accident, work with experts to determine the cause of the accident, and negotiate with the insurance company on your behalf. The right attorney will fight for you to get the compensation you deserve.
The right motorcycle accident lawyer can help you recover damages and that sense of security you once had. With their expertise, they will guide you through the process, educate you on your rights, and ensure that you are getting the best possible compensation for your injuries.
What are the main types of a motorcycle accidents?
Motorcycle accidents are a leading cause of death and injury in New York City. In 2017, more than 4,000 motorcycle accidents in the city resulted in more than 1,000 injuries and more than 100 fatalities. The leading causes of these accidents include distracted driving, unsafe lane changes, speeding and driver aggression, drunk or drugged driving, traffic violations, unsafe turns, left-turn accidents, road hazards, tailgating, and vehicle defects. While many causes are beyond the control of motorcycle riders,
they can take some steps to help reduce the risk of being involved in an accident. Motorcyclists should always wear helmets and protective clothing, obey all traffic laws and avoid riding in bad weather or areas with high rates of accidents. By taking these precautions, riders can help to reduce their chances of being involved in a severe or fatal accident.
Understanding your loss
Motorcycle accidents can be devastating. In addition to the physical injuries, there can be significant financial losses. If you have been involved in a motorcycle accident, it is crucial to understand the cause of the accident. This will allow holding someone else financially accountable for your injuries. For many accident victims, insurance alone will not compensate for the full extent of their losses. An experienced motorcycle accident attorney can help you investigate the cause of your accident and gather the evidence needed to build a strong case. Contact a motorcycle accident attorney today to learn more about your legal rights and options.
A lawyer can help you get the compensation you deserve
We will fight for you, and we will not let the insurance companies take advantage of you. Call us today, and let us help you get the justice you deserve.
When it comes to your injury case, you want the best legal team fighting on your behalf. A team will be aggressive with every step and make sure that no stone is left unturned.
We have a strong track record of success, with over a decade of experience working for our clients to get them the most for their injuries. If you are looking for a personal injury law firm in New York City, we are here to help.
If you or a loved one has been injured due to someone else's negligence, you need a qualified personal injury lawyer on your side. For more than 30 years, our attorneys have fought aggressively for victims who have suffered from catastrophic injuries or wrongful death at work or in an accident caused by a careless driver.
Many lawyers specialize in motorcycle accidents, but not all of them are worth using.

Please get the help of a specialist who knows what they're doing.

Don't try to handle things on your own – it's time to get professional legal assistance.

Our goal is to achieve the best possible outcome for you while at the same time providing compassionate support.

Our team is committed to diligently working on your behalf and always providing you with the information you need.

You will be someone's priority, not just a file in a filing cabinet.
Our Teams
Right Legal Team
No Recovery. No Fee!
Get A Free Consultation!